Doll House is more than just a brick and mortar fitness studio. Since 2012 we have worked to create a space that serves as a place of discovery, liberation and bonding. We encourage learning and growth, healing, expression and inspiration. We invite you to come dance with us, experience the transformation that can come from within, harness your confidence, your power and allow yourself to find a home in Doll House pole fitness that helps you find and appreciate your feminine divine.
Our studio:
Over 2,000+ square feet
Plenty of free parking
Two spacious bathrooms
A spacious separate changing room
12 feet competition xpoles
Dim lighting and loud music
Surround sound system
We are conveniently located right off interstate 66, inside the Sudley Corner Center, near the Northern Virginia Community College. There are Omnilink bus stops close to our studio. Check out their bus schedule For more information click here.
Our purpose is to provide a safe and non-judgmental environment where we bond in the excitement of sculpting our physiques, building self-confidence, and liberating ourselves from the ordinary gym setting.
Pole Mama/Owner: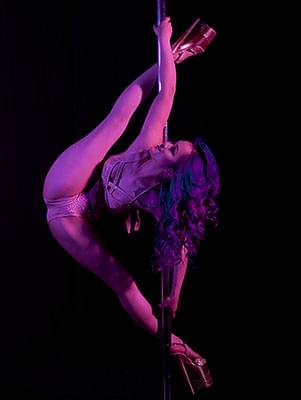 Hello! I am Doll House Pole Fitness founder Von Brianna. I started my pole journey in 2009 and then started Doll House in 2012 with the hopes of sharing the happiness and strength that pole fitness had given me in my own personal journey; nothing could have ever prepared me for what an amazing experience it would be. We had very humble beginnings, dancing at different venues, competitions and showcases and we quickly evolved into hosting our very own competition, Candy and Chrome, preparing an entire team of talented athletes to dance at a regionally recognized competition and making memories and friends that will last me a lifetime.
I have worked hard to weave all of my teaching and performance experience together to offer the best pole dance classes in NOVA. I have been in the company of amazing mentors in countless hours of training and conditioning and I love staying on top of the hottest pole trends and teaching techniques so that I can offer classes that combine sensuality, dance and fitness for a unique experience that you will never forget!
Qualifications
16 hours of training in the Angels Discoveries Pole Dance Fitness Certification
Fly Gym Aerial Fitness certified
Pro-status 2017 United States Pole Dance Federation Championship in New York City – placed top ten out of 29 competitors
1st place in the 2011 Miss Georgia Pole Champion, Miss Creativity and the People's Choice title at the Southern Regional Pole Fitness Competition hosted by Pole Dance America
Competitions and other performance experience:
2011 Battle of the Pole Studios in DC
2012 Southern Regional PRO Pole Fitness Championship in New Orleans
2013 Atlantic Pole Sport level 4 Championship in Virginia
2014 Candy and Chrome Pole Contest
Performed at varies pole shows, venues, and clubs in the DMV